Before I go into my 2013 predictions I will focus this post on  reviewing 2012 predictions.  I will write about my 2013 predictions shortly, perhaps tomorrow.
I said 2012 was a year of "convergence" and that has largely been true.
aaa
Found this image here.
aaa
Also, the nature of my predictions are fairly narrow band or wide band (Chinese Economy/Euro), relating to areas I know something about rather than things know little if anything of.
Having looked back, I was right on all my predictions – but most would have been easy to make, anyway, so I didn't really predict anything unexpected – which would have been much more interesting to recount just now.  And I didn't even talk about "Big Data" which is all the rage just now.
Here were my 2012 predictions:
zzz
Care of Brian Solis.com
zzz
By the end of 2012, most of the Monitoring and Management Platforms will be acquired.  True.  Collective Intellect / Vitrue, Wildfire, etc.  There are fewer independents left though a lot of start ups coming into the space. The rest will likely be acquired in 2013 or fail.  For the purpose of a recent analysis I took a deep look at the platforms in the red boxes.   Many of them were acquired this year, BTW.  Take a look.
Google will develop a PR Measurement Dashboard – I don't know it happened quite that way, this year, but it happened none the less.

True

.  I think this did happen if you consider the following additions to Google Analytics.  While Google hasn't released it's own monitoring dashboard it has released most of the parts of it separately (De Facto)

Google's Social Reporting that was released in March 2012 enhanced Google's ability to provide a 360 view of a customer's web presence.
Google's acquisition of Wildfire Interactive in July 2012 fills in gaps where Google Analytics could not capture the most relevant details regarding Twitter, Facebook and other social data that isn't part of it's Social Data Hub program.
New Google Analytics features this fall (Universal Analytics which will roll out in gradually over 2013 and 2014) envisioned or just added, such as costing imports, enhanced link attribution for in page Analytics, will close the gap between users, their online and offline identities and their devices.

Most of the Independents will be bought up (basically the same prediction as my first point) –

True

.
Most will incorporate Mobile Analytics and Geo-Location – that wasn't a hard prediction to make, it was already happening  in 2012- but will continue to evolve –

True

.
Social Media will go mainstream in 2012 – True (that happened) it's now part of Corporate IT/Marketing, for better or worse. Pretty soon, in a few years some think it will be "absorbed" and people will just be business experts expected to communicate on all channels, and social (or whatever it's called then) will be just one of them.
Web Analytics and Social Media Analytics will merge in 2012 –  

I think that it happened in 2012

, both from Google's side with the Social Reporting (already alluded to) and several other of the Web Analytics platforms that are now going deep into Social Media (something that would not be obvious 5 years ago, but natural to assume that it would, today). Here's some road signs that happened in 2012 (I said it was beginning to happen  in 2009).

Many of the Social Monitoring platforms (Radian6, Nielsen, take Web Analytics data as inputs, WebTrends, Adobe SC, Google Analytics) – that continued to accelerate in 2012.
Several Social Management Platforms (Sprinklr, Shoutlet, etc – take Web Analytics data – but the way the info is used might still be limited).
Bing offered its own Social Sidebar earlier this year.
All the major data vendors (including CRM's like Salesforce, Oracle and now Adobe) went live with their Social Marketing Hubs.
Google Project Glass really launched this year and will start showing up as AR glasses we can buy in 2013.
Most of the Web Analytics vendors such as Adobe and WebTrends, beefed up their own social offerings. in 2012
I also went Wide Band and talked about the Chinese Economy and the Euro – the Chinese Economy was to slow down and the Euro possibly collapse. I was at least half right, and maybe we just need 2013 to happen to find out how right or wrong the predictions I made here are going to be.
The picture above was probably a fake but does paint quite a story!!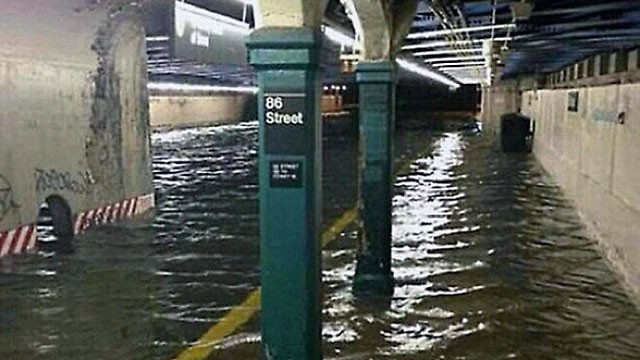 This photo was real – and almost as terrifying.
I'll have my 2013 predictions up shortly.  My 2012 predictions, though perhaps not as "unpredictable" as I'd have wished for, were almost entirely correct – in terms of what I ended up forecasting.
What's likely to take place in 2013 – well just wait a day or two and find out (that's if I can formulate the questions and come up with the answer myself).