VenueLabs is a platform that provides geo-local in-store readouts for brick and mortar businesses and chains of venues/locations – I have worked with the platform in the past and continue to have access to it and a warm relationship with the founders (we also did a webinar early last year).
This morning Venuelabs released a new benchmark study and a series of Infographics on the Strategic Importance of Local Customer Experiences that I want to talk about today.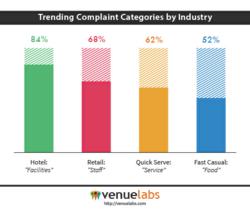 Yesterday afternoon I had an advanced peak at the Infographics a discussion with Pete Mannix, who is the CTO of Venuelabs.  Before going into the findings I want to point out they are based on "Big Data" and Data Science operations and are applicable to the broader retail industry beyond customers and users of the Venuelabs platform.     According to Pete Mannix there is a strong predictive model that has been evolved by the data science team and validated by their findings …
"…We're really excited to share this data – these benchmarks are the first living asset our Data Science team has produced (other than what we share with existing customers).

The core of these benchmarks are grounded in applying sound analytic techniques to an appropriate sample from the industries tracked, leveraging the Venuelabs platform to tease significant insights into a predictive model.

The insights shared in these benchmarks are barely scratching the surface of the descriptive and predictive power of the analysis.  Right now, Venuelabs is the only platform with this holistic view of the local in-store customer experience, and over the coming weeks and months, we are looking forward to sharing more of these insights publicly.
The Venuelabs findings cover 4 industries and are based on this quarter (I imagine Venuelabs might publish these findings on a regular basis and perhaps quarterly). The industry benchmarks  covered are Retail, QSR, Fast Casual and Hotels and all focus on  Local Customer Experience.  The benchmarks are published in cooperation with The Location Based Marketing Association (LBMA) who are involved in setting best practices for their members and include   over 600  retailers, restaurant chains, agencies, advertisers, media buyers, software services providers, and wireless companies.
Here's the infographic for casual restaurants – I happen to be more involved with that industry these days and in the past, but all of the Infographics are equally interesting and informative.

See How Your Brand Compares to this Benchmark
Interestingly, Au Bon Pain is totally missing the mark with their "local blind spot" and missing out on 93% of the local customer feedback in social media – this is accounted for by customers who complain about some aspect of the food and decor but who don't specify the specifics well enough for it to be picked up by keyword monitoring.   Venuelabs released studies as far back as mid 2011 on local blind spots that all retail businesses have.  People complain about the coffee or a sandwich, but don't mention in their tweet or post where they are located.
There's a lot more to look at in these Infographics and industry benchmarks such as customers are 72% more likely to make a positive comment about the food in a local restaurant than a negative comment (39%).  You can find that information at the bottom of each Infographic and as I ponder more about the findings I'll publish my thoughts here.