Working with one of my clients that cares a lot about local search (I'll leave out names today – but you can guess) it's a wonder why every business isn't all over Google Places given that Google Now Highlights Local Businesses in Top Search Results according to a recent post in Read Write Web.   However it was Mike Blumenthal at Understanding Google Maps and Local Search blog that first notice the change earlier today and posted about it in  Google SERPS Now Showing New OneBox
"…Blumenthal noted that the map has increased in size, and reviews of the business are no longer shown unless they meet certain criteria. The link offered next to the OneBox result also brings you to the Place Page instead of the company's website, which is offered (in our brief tests) as the first result before the OneBox result.

In a separate post, Blumenthal also noted the "resurrection" of Google Coupons from the dead. Alongside our reporting earlier this month on Google's mobile payment solution, all of this news seems to point toward Google's continued efforts to take a piece of the commercial pie.

Why simply point users to services like Yelp and PayPal when you can provide these functions yourself?
Decided to go one box hunting looking for more prominent local search results – it didn't take me long to find one.


In order to get a listing like this your probably going to have to have a Google Places page set up though to be honest, it doesn't look like DaVinci Art Supply actually did that yet -it's not that big a deal to get one set up if your a local business, but I bet most businesses haven't caught on yet – it's still too new.    I think there's no point of doing geo-local SEO if your not going to first go after a Google Places page for your business.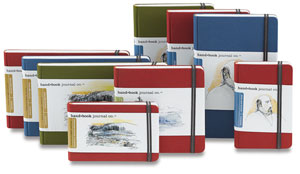 Hand Book Artist Journals
I had been in DaVinci's last week to pick up some new sketchbooks which I buy in certain sizes only (above, it takes me several months to fill one up, I carry my Hand Book almost everywhere I go)  – so their name was top of mind for me.  When you consider you can also include coupons on Google Places pages for businesses that are authenticated- it's dumb not to go for it.
Also read how Extractiv Launches "Semantics as a Service" Platform and I did sign up and tried it, ran 2 jobs though I did not know what to do with the results – still the service looks interesting and promising.
Finally, read that Google Conducting Focus Group Research Into Social Networking and I was puzzled until I thought about it
I wonder why Google needs this study – can't they get what they want from their own search queries? .. oh right … people doing social networking don't explicitly search as much.
And with Google Quietly Invests Over $100 Million in Zynga, Readying Google Game another reason was proposed for the investment – get at Facebook data – as most of Facebook is a walled garden.